City of Huntington Park
FOR IMMEDIATE RELEASE
Date: May 31, 2022
The City of Huntington Park City Council and the Huntington Park Police Department Proudly Announce the Promotion of its First-Ever Female Lieutenant.
Huntington Park, CALIF. (Tuesday, May 31, 2022) – During the Tuesday, May 31, 2022, City Council meeting, the City Council will commemorate the promotion of its first-ever female to the rank of Police Lieutenant in the City of Huntington Park.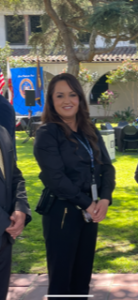 In 1908, the first Huntington Park law enforcement official was appointed and served as City Marshal for the City's newly formed Police Department. In the 114-year history of the Huntington Park Police Department, females have served in various ranks and capacities. However, a woman has never been promoted to the rank of Lieutenant or higher. Elsa Cobian will be the first-ever female in Huntington Park Police Department history to be promoted to Lieutenant. The City Council has the honor of pinning Ms. Cobian at tonight's special City Council badge pinning presentation.
Elsa Cobian grew up in the Southeast community, born and raised in Boyle Heights. She graduated from Roosevelt High School, obtained an AA degree in Administration of Justice from Rio Hondo College, and received a Bachelor's degree in Criminal Justice from the California State University of Long Beach. She began her law enforcement career in 2003 when she was hired as a Police Cadet by the Huntington Park Police Department. Elsa Cobian became a sworn police officer in 2005 and has advanced her career over the years, earning her present rank of Sergeant.
Mayor Ortiz said, "This is a historic moment for the City of Huntington Park and its residents. Ms. Cobian is an inspiration to young women and children considering a career in law enforcement. The City Council is extremely proud and excited for Ms. Cobian, and we hope that she continues to thrive and be a good role model for the young women in Huntington Park."
The City of Huntington Park is incredibly proud of Elsa Cobian and commemorates this historic moment.
###
City of Huntington Park
Press Release